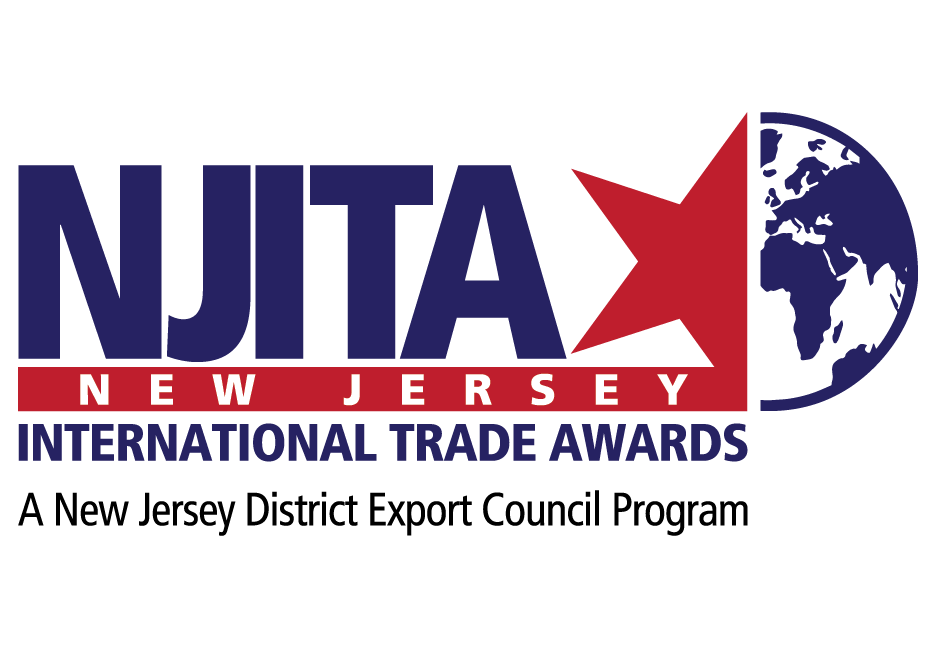 What people are saying about the May 17, 2023 event:
"I loved every minute of the award event! It was encouraging to hear about the effort of the State of New Jersey to promote international trade. It was even more encouraging to meet and hear from business owners who are succeeding in the journey. I left the event, encouraged and determined to work harder so we too can take our business to the international market. I hope you can make this an annual event; it was really a morale booster for the business seeking international presence!" Caroline Egbelu, Health Enhanced Foods, Inc.
"It was a wonderful event. It was great to share all the insights and inspirations." Monica Lee, Route66 International
"The NJITA award winners provided excellent insights into selling into foreign markets." Navin Pathak, Entry India LLC
"Honoring tremendous New Jersey goods and services exporters helps extend the message about exporting throughout the state." William E. Spear, Manager, New Jersey Office of Export Promotion
Recent Articles about the event:
Why going global is still local: Top companies explain secrets of success in exporting | ROI-NJ
Gokhan Alkanat, the associate provost for international education at Rowan University — a key leader in the school's effort to build its international program — chuckles when he compares the workin…
Want to become an exporter? Expert offers 10 things you need to know | ROI-NJ
Acrow Bridge literally has been connecting people, communities and businesses since it was founded in 1951 in Parsippany. CEO Bill Killeen callas Acrow a unique business because it manufactures mod…
The New Jersey District Export Council (NJDEC) is proud to recognize excellence among New Jersey's leading exporters in the four categories of Exporter of the Year, Service Exporter, New Exporter, and Minority Owned/Diverse Exporter.
The goal of the NJ International Trade Awards (NJITA) is to recognize and honor New Jersey companies that have worked diligently to expand their exporting efforts. They may have accomplished this by penetrating new markets or by increasing their presence in existing markets – or by embracing both growth strategies! By doing so they have contributed to the creation of new jobs while subsequently improving and enhancing the New Jersey economic landscape.
Join us for….
Ample networking opportunities.
Insightful panel discussions with our award winners!
Welcome address from prominent international business executive.
Fireside Chat with from prominent international business executive. or high level government official.
Award Categories
Exporter of the Year: Awarded to a New Jersey company that has grown its exports and made exporting a cornerstone of its business.
Service Exporter of the Year: Awarded to a New Jersey company that is successfully exporting services.
New Exporter of the Year: Awarded to a New Jersey company that has begun exporting products or services within the last two years.
Minority Owned/Diverse Exporter of the Year: Awarded to a New Jersey company that is successfully exporting, whose owners or senior leaders and managers represent an underserved business community, which is defined as African American/Black, Asian American, Hispanic American, Native American, Veteran and Service-Disabled, Woman, or LGBTQI+.
Next Year Ceremony Details
Date: May 15, 2024
Time: 8:30 am – 11:30 am (doors open at 8am – program starts at 9am)
Location: Galloping Hill Golf Course, 3 Golf Drive, Kenilworth, NJ 07033
Official Marketing Partner for the New Jersey International Trade Awards program:
Please direct any questions to Susan Widmer at Susan.Widmer@trade.gov
For sponsorship opportunities please reach out to Tom Hughes at thughes@roi-nj.com